i'm thrilled to find my plants not only alive but thriving... haha, yes, i managed to leave them behind when i left for ronneby. we came back just a few hours ago.
i find it very mysterious how i can leave with two barely full plastic bags on thursday only to return a few days later with 5 full plastic bags as well as a large, heavy and very full paper bag in tow. i blame my mother, naturally. ;) the coolest thing she nagged me into bringing was my grandma's cooking book from 1958. it's an amazing book that shows anything from how to prepare peaches á la melba to folding napkins in fanciful ways, or hey, how to make a fab tom collins.
i bought four really lovely shirts. only two of them are black - progress! one of them is probably the most low-cut i would ever be able to persuade myself into wearing, so odds are i'll never actually wear it, haha. i'm very much a covered-up girl for no particular reason, i'm not used to even showing a hint of, er, stuff, so i feel very confused every time i try it on and look down and see booooooobs :o, haha. it's a VERY nice shirt, though. and black. hmmm...
i also found the shade of bright red hair dye i've been using since last summer that is being _discontinued_ and haven't been able to find for months up here so.. naturally, i bought four boxes, WOO! i can now be ridiculously red-haired for all of 2006. hooray!
mom spent my entire visit talking about, cooking, and serving food. i had to yell at her to please stop feeding me, eventually. she's so cute. dad insisted i take the car for the weekend. i was really freaked out from just the thought of driving, right up until the moment i sat down in the driver's seat and magically totally knew how to work stuff.
i probably spent 4-5 hours this weekend just driving around alone for fun, going to the beach to find tiny seashells and inland to find sheep and cows and horsies. (it was especially fun driving past lots of horses with my window down shrieking along to queen's "princes of the universe" turned up way too loud, haha. they just stared.)
i also got a lot of cuddle-time in with ze cat. he's so cuuuuuuuuute. i can't actually sleep through the night with him on my bed because i'll wake up every few hours and find myself tangled up really weirdly and awkwardly around him, but waking up lets me snuggle him a bit extra, so it's totally worth it, haha.
and that's about it. so not ready to go back to work tomorrow, but whatever. i've pretty much got this week to prove i can work on this new project or not. my brother is coming up for a visit (he'll stay with a friend, though) during the week, so that'll be cool. can i be more update-y if i tried? nah.
so. cin cin!
my cat is shedding his winter coat like crazy. i'm kind of allergic to him, so i've spent the weekend with a very stuffy nose and cat hairs whirling everywhere. totally worth it, though. frrrr!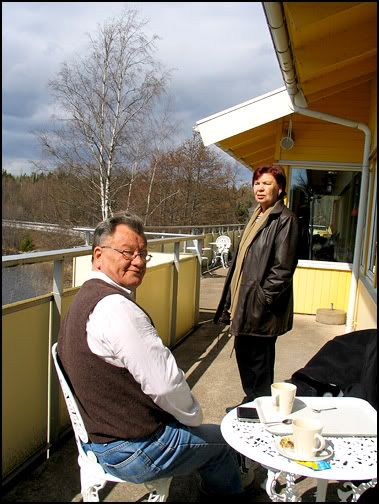 my parents... not liking the camera. hehe.
we had the most amazing rainbow experience. it showed up after a sudden rain and it was ridiculously close. at times, the end of the rainbow was right in front of us on the road, mirrored on the wet asphalt. so gorgeous.