my mom is here. she got here yesterday afternoon and will be leaving tomorrow morning. she's apparently quite impressed with most of our apartment and approves of my room muchly, haha.
so, over a period of about 33 hours that include 9 hours lost to sleep we have: spent hours eating meatballs and shopping stupid stuff at ikea (as if i needed more tea mugs, especially since i drink tea less than a handful times a year!), gone grocery shopping twice, rented a movie, met up with aunt + surly husband to walk all over gamla stan and downtown stockholm chatting and shopping, spent more time shopping on our own, and lazied lots around the apartment.
also, mom has made yummie pastries and i made yummie spaghetti + meatsauce. mmmmm. she also found a moment to be bored where she actually decided to mop our floors and do my dishes (when i wasn't looking - argh!). hahaha. gabi was so happy about the floors she kneeled and bowed in thanks, hahaha. hey, it's been lovely.
my favourite purchase was going to the downtown market just around closingtime where i lucked into the sales frenzy that landed me with an ENORMOUS bouqet of flowers that should have cost at least $25 in a flower shop that ended up costing me about $5. love iiiit. i'm gonna buy fresh flowers for weeks now. sigh. addiction, baby!
anyway. my mom rocks. i'm glad she was able to visit, even though it's a short one. no clue what i'm doing tomorrow after she leaves, or monday. i just know i'm really enjoying time off work..
my lovely mother in gamla stan. i'm totally responsible for her hair colour, haha. i force-dyed it when i was home over easter because she had these horrible blonde highlights some evil person convinced her looked nice. buh. now she looks fab and like herself again. yey, hair dye!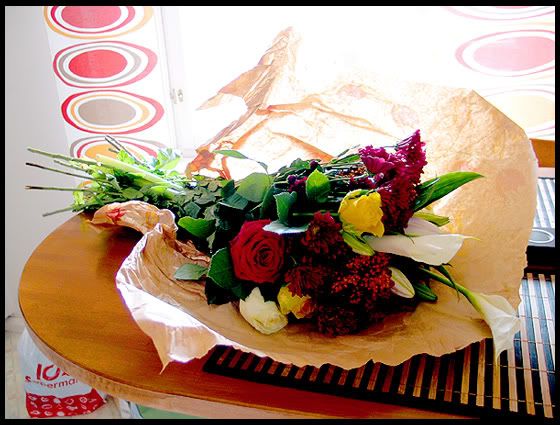 enormous bunch of flowers! the tallest would have almost reached my thigh from the ground. i had to use both arms to carry. $5!
the flowers gave me a great reason to finally buy a vase. of course it cost $16, hahaha! my camera died or i would have a nicer photo to share that isn't so washed out, but whatever.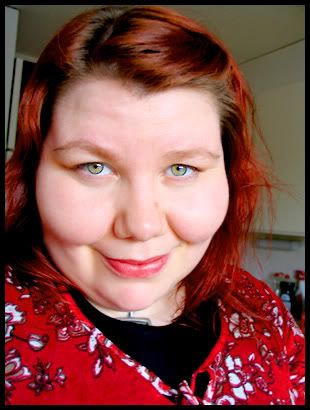 and this photo is here purely because, uh, i haven't posted a picture since new year's eve. it sort of seems redundant to post it when i posted
this april 19, 2005
picture last year and.. as you can see, little have changed. still wear red in april, still dye my hair red, and still can't tan.
cin cin, darlings!