HELLO.
AXL ROSE & FRIENDS JUST SLAYED STOCKHOLM.
I'M COMPLETELY SHELLSHOCKED.
THANK YOU.
good lord. i went to see axl rose and his new guns'n'roses tonight. i mostly went because 1) i was ridiculously obsessed with the band when i was a kid and into my teens, 2) was curious to see how strange axl would look after having looked really bizarre lately with the cornrows and stretched face, 3) to see if axl would show up at all, 4) to at least hear the band open with "welcome to the jungle" and get to hear the intro-roar live just once in my life, 5) BECAUSE THERE ARE NO OTHER SHOWS FOR ME TO SEEE.
my expectations were really, really low. and then they came and axl SMILED throughout the show and made cute chit-chat and his voice freakin' KILLED EVERYTHING. it was absolutely gorgeous axl-on-CD voice quality. i was so, so happily shocked. and they had total fun on stage and played extra songs not on the setlist just because (axl: "well apparently we're playing another song because the rest of the band just vetoed me and wants to play this. see, we have some communication in this band. hahahaha.")... aaaah.
first i met up with gabi and my friend mats to eat. look at the size of the pizzas mats and i got - RIDICULOUS! they were wider than the CHAIRS and fell way over the edges of the plates so you had to stick your hand UNDER the pizza to reach the plate to move it. insane pizzas! i ate like a quarter of mine..
this was gabi's FIRST REAL ROCK CONCERT! her last actual concert was _Sting_ at a seated event in this same arena back in 1999. i tried to warn her this would be incredibly different, but she didn't quite listen. she wouldn't even let me bring her sneakers to wear instead of her high heel boots because she just couldn't imagine it could be that bad. after 6+ hours being squashed by half-naked teenagers and standing up, she very much regretted not accepting the sneaker-offer...
but she had fun. it freaked her out what with the pushing and shoving and no water thing, but she made it through and i think it was worth it for her in the end. i'm so glad i finally persuaded her to attend a show with me!!
...she was extremely thrilled to catch one of the opening bands, Avenging Sevenfold, because she got an instant crush on their guitar boy and she had me photograph him extensively, haha.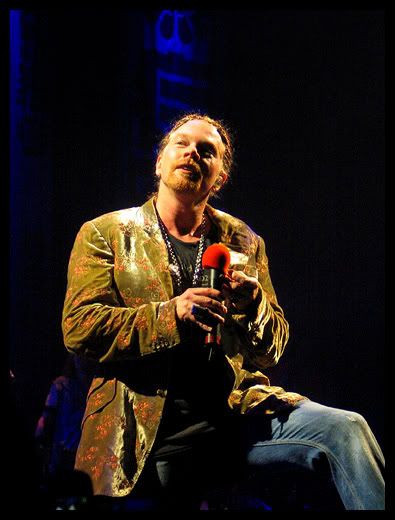 HI AXL! HI! HI! HI AXL!.. he was _so happy_ and smiling and obviously loving the show. i -adore- it when artists get an obvious kick from the show they're doing, and the crowd. yey, no surly-axl like i had expected!
he did "you could be mine" and i almost diiiiiiied from happiness, because, see, first i had a huuuuge
terminator 2
obsession and that obsession lead me to this song from the soundtrack, which lead me to my huge gun's'nroses obsession so that might give an inkling as to how incredibly fun it was for me to get to sing along with axl to this.
axl and robin finck! hehe! (former NIN-robin :D)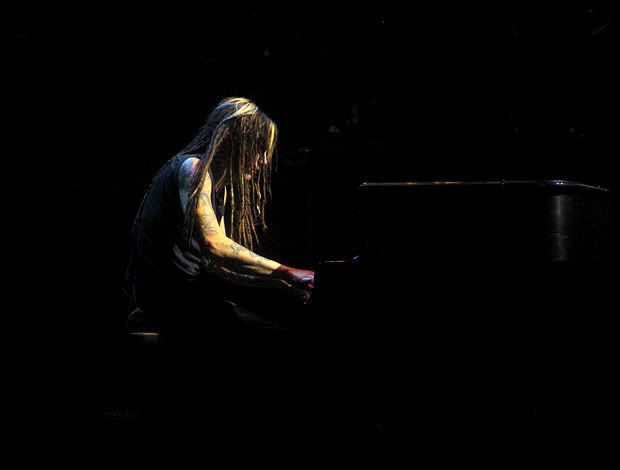 ok, this was so insane.. dizzy reed, i believe, came out, started playing something gorgeous and classical-sounding on the piano and then... it turned into SOS by ABBA, hahha! he played the ENTIRE SONG, and it was an absolutely sick, pretty arrangement.. it was surreal. hoooot.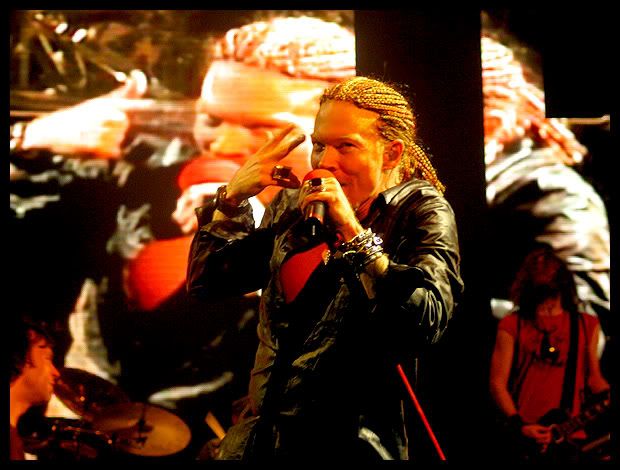 axl didn't at all look as creepy as i thought he would - he looked to be quite in shape, and his face didn't look scary, actually. could have done without the stupid hair, but whatever. it's his thing.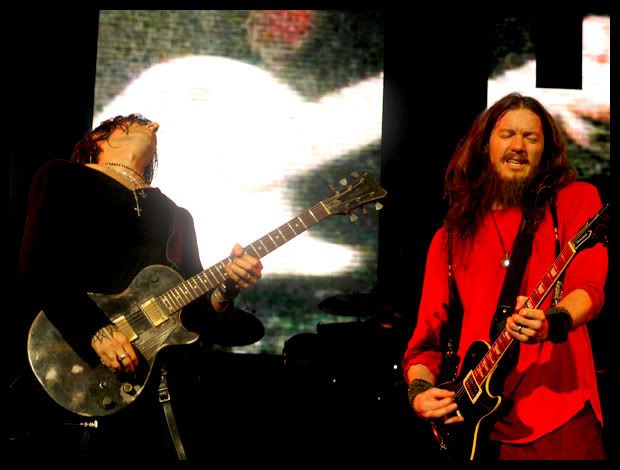 this was SO funny.. look at robin and i believe richard fortus making their groan-y "we're playing MOFO GUITAAAAR!" faces.. metal, right? except... guess what they played? oh, you so can't guess. they played this totally ornate, serious guitar version of CHRISTINA AGUILERA'S "BEAUTIFUL"! hahaha! it was hysterical because the rockboys didn't catch on for several minutes until i managed to stop laughing enough to sing the lyrics, and all around me i heard "oh MY GHOD, wtf?!?!?! whyyyyy??? noooo!!" ... and then "....the worst part is, it's actually sounding GOOD!"
hahaha, abba and christina aguilera... too funny! the last big solo was bumbelfoot, and at first he was just noodling on the guitar and then people started to call out for "don't cry" and he actually played it! it was so gorgeous, this pretty guitar version and then the audience sang the whole song. so cool. :D
and then axl played NOVEMBER RAIN and i was a teen all over again and totally bansheed as he started to play it. dammit, axl. i'm so easy!
the setlist was great, but i of course don't remember exactly all they did. from what i've seen it was pretty much the same as the other shows they've been doing with probably the ABBA thing as the main unique thing, haha. this is what i recall:
welcome to the jungle, it's so easy, live and let die, knocking on heaven's door, sweet child o'mine, MY MICHELLE, a really sick version of night train, better, IRS, madagascar (i think), november rain, chinese democrazy, patience, and last song = paradise city. it ended with an enormous rain of confetti. i almost split my face grinning.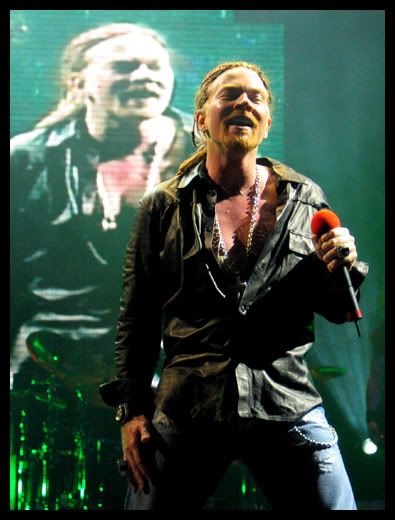 ...and axl seemed pretty happy with killing stockholm as well. :)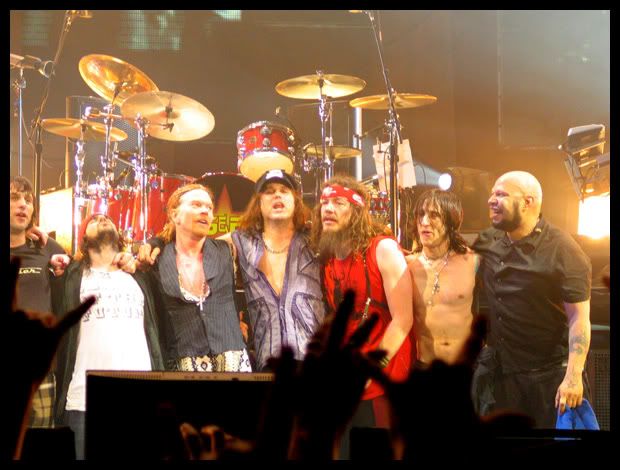 bye axl and all the people i could never pick out from a line-up but who helped make this a really great, silly, over-the-top, fun good-vibe show. :D (you know i had fun when i actually _filled_ my 1 GB memory card with photo's and video snippets!
...next friday? i see
depeche mode
again. dave gahan is pretty much going to have to get into the audience and make out with me to top this show. hahahaha.
..thank goodness i don't start working until noon. cin cin!!