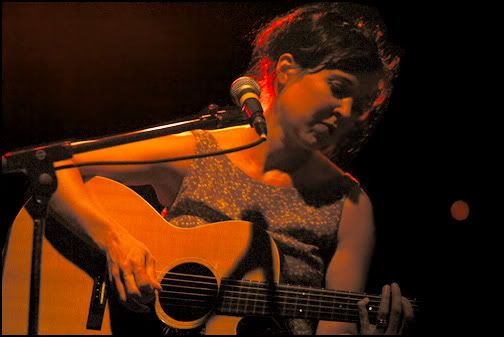 You nature lover, you country punk
You bowl me over, and I'm not that drunk
You're one in a million, you're one in two
You're not like women, and I'm not like you
I'm not like you, I'm not like you
Your spell is broken but I'm still here
Your mouth is open, guess I don't care
...
man, sometimes i forget how much i love kristin hersh songs. thank you for kristin,
moonriddengirl
. i really hope she'll come to sweden so i can see her play again, and get to photograph her better. considering i've seen her twice at seated events, front row and center, i only have really bad photo's of her (though i like them anyway, like the one i put up there). she fascinates me so much when she plays and sings and i would love to try and capture that better.
her songs just stomp all over my heart. considering so many of her lyrics don't quite seem to make sense, they paint the most vivid images in just a few words. i love
reading them
.
gabi left a few hours ago to start her summer vacation. i have the apartment to myself for three weeks. yes,
three whole weeks
. i can't remember the last time i had that much time to myself. i'm feeling quite apprehensive about it, to be honest. after a year and a half, it's just really weird to suddenly not share the space with somebody else.
meh.
hahaha. i'm now going to blame kristin for this mood. damn you, kristin, and all your songs about angels. frr! :)