what was that i said in my last entry before the depeche mode show tonight? "i know i always say this, but this time i really mean it - i don't expect to get very far to the front today " and they were gonna take my camera and i wasn't gonna shoot anyway because i'd be too far away anyway.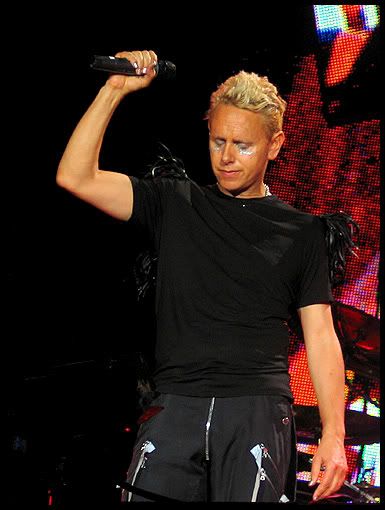 :)
however, the audience was incredibly rowdy so i really didn't get many usable photo's at all - i'd say maybe just 2-3 of dave and a few more of martin for some reason. that's okay. having dave perform straight in front of me with only 3-4 people inbetween made it very special and great and like i said before - i have a ton of good pictures from the last show so this is totally okay.
it was a really good show - i wouldn't say it was better than the first because they had way better happy energy on stage at the show a few months ago. tonight they still had some good energy and smiles, but more focused and intense. there was barely any banter and was more straight-forward "let's get to the songs" attitude, and way many slow parts that sort of killed the energy a bit for some.
..and when i say some, i mean everybody who don't get a bit mushy at martin gore's solo-songs the way i do, even when they're dull, hehe. i'm sorry, i'm a dave-girl, but martin
is
really cool when he does "home" which is a song i adoooore.
however.. the main points about this show: i got to hear and sing along to _stripped_ and _in your room_ and that was awesome since i adore those songs. adding "walking in my shoes" and "home" and "i feel you" ...i had FUN. "john the revelator" is also really crushing. hehe. also, they did a blistering version of "photographic" during the encore that was really fun.
so. very glad i got to go. dave = still teh hotness on stage. and they were so LOUD and fabulous, especially for the second half - the songs just absolutely vibrated with energy. for once, i almost wished i wasn't always up front at shows because i've never gotten to seriously hear how loud the singalong can get with 36,000 people, or really seen the wave of hands. would i really trade being close enough to hear the band speak without a mic (albeit faint) for that though? naaaaaah. hehehhee.
now i best get to bed as i have to go to work in less than 6 hours.
oh, one last thing...
muse
was the opening act and i hated them/him so much i shocked myself. it felt like watching a black hole in music. oh, the songs were fine, technically, and the guy can sing, but from the moment the leadsinger got on stage he exuded an enormous nothingness that made me just hate it.
like, he'd sing all these flowery pretty lyrics and there was so nothing behind it, he never connected with the audience at all and just seemed wrapped up in trying to impress with his thom yorke'ish voice. it was the most self-involved singer i've ever seen, and he killed the set for me. just thinking about him makes me angry, haha. frrrr!
okay. sleeeep! :D