i had such a great time yesterday! i went to see the stockholm pride parade, and it was so much fun. they were expecting 15,000 participants and 150,000 people lining up to watch. they were kind of off. the parade ended up with 30,000 participants and 450,000 people flocking to see. it was AWESOME. love it! :D
(considering sweden has approx. 9 million inhabitants, having half a million attend a pride event is pretty damn incredible! yey!)
i snapped a loooot of photo's. big surprise. at first i tried to select just a few to show, but then i realized i'd be much happier just trying to put up as much as possible so that you could kind of feel like you too were there watching. so.. i put up 87 photo's at killtoknow. HEHHEE. it's all split into 9 pages so hopefully it'll be fine to view.
click the lovely drag queen above to reach the first page.
anyway. there were loads of drag queens (we all know i love drag queens a whole lot, right? in spirit, i'm totally a drag queen) and spectacular outfits, but there were even more wonderful people in very regular clothes as well. it's great to see the two mix. also, there were several swedish celebrities and politicians - i got crap photo's of most of them because i lack the real paparazzi gene. oh, i'm real good at spotting celebs, i just don't really think to photograph them.
okay. so. had fun! eh.. going back to sleep now. will post tons of holiday pictures later today, i believe (unless i get stuck for too many hours at ikea).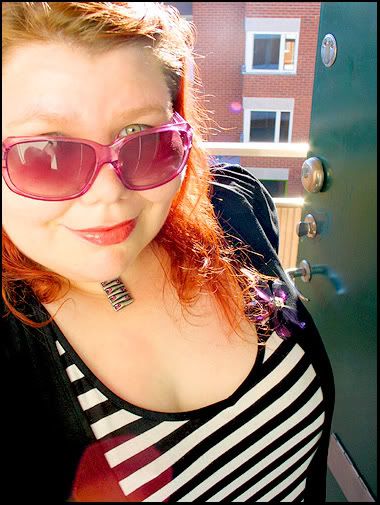 it's all about the accessories, hahaha! go purple bling! oh, you can't tell, but i was also wearing my new ridiculous ring that is huge - it's pink fake blingy stones in the shape of a princess crown! HAHAHA! ..the top of my boobs has turned pink, though. just what i needed - a new freakish "tan."