happy birthday to my mom! not that she'll ever read this, and obviously i've talked to her previously, but still. it's a must-do. hehe. she got my gifts when i was home on holiday so instead...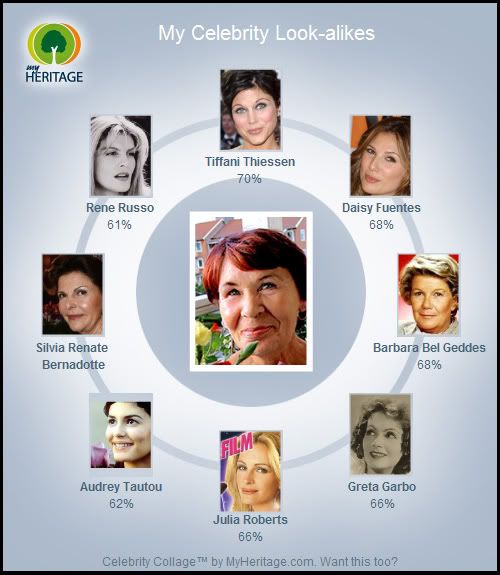 did she not get fab results?? i'm especially amused that she managed to score a hit against silvia renate bernadotte: that's the queen of sweden, ya'll. my mom soooo beats our queen. and greta garbo! hee! total swedish edition. ;)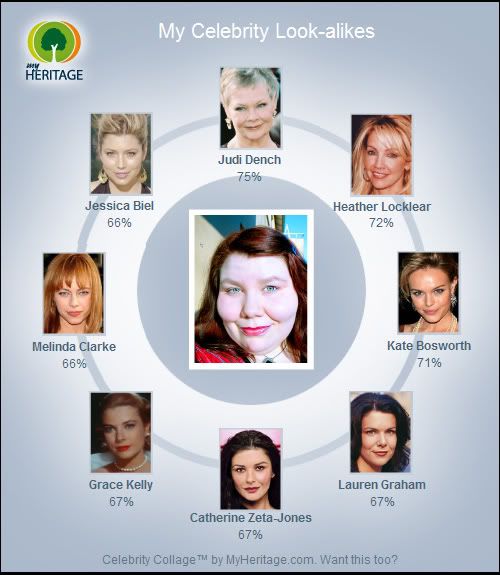 boo, even though i tried to match my mom's photo, we didn't overlap on a single face. oh well. dame judi dench, hehe! the rest of the ladies might seem like flattering choices but obviously, i look nothing like them, and i'm seemingly matched to them due to my large, shiny forehead and fat apple-cheeks. oh well. lauren graaaham, hee hee!
click the photo's above to do the thingy yourself. (did anyone else have a problem with uploading photo's that totally met the requirement and the program not finding any matches at all? it was quite frustrating, i went through like 5 full-on face photo's with no matches before it finally worked... )