so i went to go shop with gabi, and i was on the hunt for, well, devil horns, mainly. scoooooore!! ..as will be evident when you peek, halloween does SILLY, SILLY things with my sense of judgement, hehehe.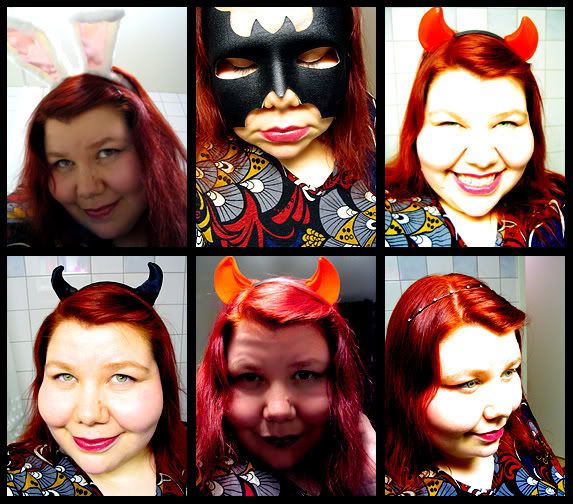 i now own BUNNY EARS again, and super-cute black devil horns, and surprisingly cool red plastic devil horns (bought before finally finding the black devil horns - last year i couldn't find black horns so didn't buy any horns at all and regretted it, so i figured i'd buy the red ones just in case), and a pretty glittery not-halloween diadem, and a BAT-MASK!
the bat mask was the most fun thing i bought because while i look ridiculous in pictures wearing it, it looks really cool in real life. i found it in a halloween store (the first i've ever seen in sweden!) and it was, like, $13, and i was going to buy it because i loved it but it was the last they had and it had little flaws, so i asked the owner if he had anymore, since, well, it did have tiny flaws and.. i was hoping he'd knock off maybe a buck or two. dude, he said: "well.. how's $4 sound?" ...hee! SOLD, i yelled. :)
anyway. now the only sad thing is i have no halloween celebration to attend. oh well. i'll wear the black horns to work, at least. :D
and now i must hurry and scurry off to see midlake. :D ROSCOE, LIVE, WOO!