since i'm too lazy to post properly, but still want to do a "bye bye 2006!" post, i decided to do the meme everyone's passing around.
1. What did you do in 2006 that you'd never done before?
Oh no, I'm so bad at remembering stuff. Ok, I... Oh, I know. I became a teamleader, twice, at work, which means I got to do a lot of work-firsts, including firing people. Heh. And I tasted a miniscule piece of sushi-fish. It was horrific. I did like trying wasabi, though, and have been eating wasabi peanuts all weekend.
2. Did you keep your new years' resolutions, and will you make more for next year?
I didn't make any, and dont plan to make any for next year. Not my thing. :)
3. Did anyone close to you give birth?
I don't think so - the closest is probably my roommate's sister having a baby last spring?
4. Did anyone close to you die?
No, but many friends and family members lost people they were close with (and that I knew, of course), which was tough. :/
5. What countries did you visit?
Just Denmark. Eek!
6. What would you like to have in 2007 that you lacked in 2006?
I'm tempted to steal
thineownself
's answer, but won't. So. I would like a more permanent home where I'll get to live alone for the first time, well, ever! I'd like to have more time off work. And I'm tempted to want to try something.. different, than singledom, next year. We'll see?
7. What dates from 2006 will remain etched upon your memory, and why?
Haha, my brain + dates = WHAAAT?
Moments I remember fondly: the cheer joy after the guns'n'roses concert last summer. It really was a fun concert. As was both Depeche Mode concerts. Not simply because they were good concerts, but because it was so wonderful being part of huge crowds that all were so excited and happy. I love being a part of a happy mob. And the three-day vacation to Copenhagen with mom stands out as a great thing where life was good.
8. What was your biggest achievement of the year?
I think this second teamleading job, because it's given me the opportunity to rack up tons of work experience in all sorts of areas in the shortest amount of time, and it will probably help me the most in the future, workwise. In my personal life... nothing comes to mind. I had a pretty mellow personal life this year, with a couple of notable exceptions that still don't count as achievements, so nevermind. :)
9. What was your biggest failure?
I don't know? Ok, how boring am I in this meme? Haha, I have such a poor sense of introspection. I can't think of a specific moment, but I think perhaps becoming too wrapped up in work and allowing myself to stress out too much over work-issues on my sparetime could be counted as a failure. Hey, look - I could make that a New Year's Resolution! Ok, I'll try to remember to: step back from work and not become more wrapped up in things that I'm not actually getting enough PAY to care about. :)
10. Did you suffer illness or injury?
Eh, I had a lot of spectacular colds, but I think that was it. I've had a cold since July, so whatever. I'm not going to complain. I feel very lucky that that's all.
11. What was the best thing you bought?
Oooh! I don't think I bought anything major, but I have bought many, many little things that have brought me joy, and the mere fact that I CAN buy little things that bring me joy is good enough. Maybe the Nine Inch Nails tickets made me the happiest? (Obviously along with the NIN fanclub membership. Here's hoping my two NIN shows turn out as hugely fun as I'm hoping.) I was glowing for days, haha.
12. Whose behaviour merited celebration?
Ceeelebrate good times COME ON! Oh, I don't know. Haha. I don't think this way, so I suck at answering questions. My friends have been good to me, and all get a bit of celebration from me in honour of that?
13. Whose behaviour made you appalled and depressed?
Honestly, the behaviour of several teammembers this fall. It made work difficult for me, and forced me to spend way too much energy making things work inspite of all the uncomfortable meetings and confrontations I had to have.
14. Where did most of your money go?
LOTS of food (I love shopping groceries! I think the most-bought grocery items for me were: bell peppers, peanut butter and blueberry-raspberry smoothies), including eating out for most lunches, and the rest went to bills (mainly rent and school loan), concert tickets, movie tickets, and surprisingly, clothes. I've never had this many nice clothes to choose from when getting dressed, ever.
I still only have one pair of shoes to wear, though. Need to work on that..
OH, and I spent a SHITLOAD OF MONEY on dental work. And loads more to come. Sigh. Oh well.
15. What did you get really, really, really excited about?
Nine Inch Nails 2007! Hahaha, so lame, I know. But from the moment
moonriddengirl
told me they were coming to Sweden, to the moment I'd bought tickets to see them in Stockholm and Oslo, and for days afterwards, I was just filled with sheer happy excitement. Mostly, I think, because it was just so unexpected, and because the day before their tour was announced, I had randomly made the statement that NIN is one of the few bands I'd really get hyper about seeing, now, and.. ta-dah! :)
16. Compared to this time last year, are you:
a) happier or sadder?
If I'm to be honest, I can't remember enough of what I felt a year ago, to really know. I know that I'm currently under a lot of stress that is making me feel sad and a bit depressed, BUT, I also feel strong and confident that it'll be overwith soon, and nothing in my personal life is really bugging me, so.. I feel good. Hopefully, that's how I felt last year as well.
b) thinner or fatter?
I think I'm the same size I was last year? I at least am pretty sure that I'm not fatter, so how 'bout: same?
c) richer or poorer?
Richer, in theory. My pay is definitely better than a year ago, and yet, like EVIL MAGIC, I am as poor as I was then. Oh well. :)
17. What do you wish you'd done more of?
Relaxed more on the couch! And I mean that in a "watch movies and relax" kind of way rather than the way I'll attempt to do just that and end up falling asleep within 20 minutes
every time
this past year, because I'm too exhausted from work. I also wish I'd done more nurturing of several friendships that I've let peter out.
18. What do you wish you'd done less of?
WORK. Isn't it obvious? :) Actually, it's not working that gets me annoyed, it's that I've worked too much overtime. I'm hired to work 39 hrs/week, but always end up around 45 hrs/week, which isn't much, but usually means I've skipped lunches and breaks because I've gotten too wrapped up in things, and I simply wish I'd have gotten less wrapped up.
19. How will you be spending Christmas?
I spent it with mom, my brother, and my cat, back in Ronneby. It was surprisingly calm and nice. And Christmas Day I spent with mom, aunt, two cousins and their kids and spouses, eating yummie food and playing boardgames, which was wonderful. And the evening I spent celebrating christmas with dad. So it was all good.
20. Did you fall in love in 2006?
No. :) I nursed a crush, or two, though.
21. How many one-night stands?
Oh please. (There was one notable attempt, haha - I haven't laughed that much at a silly person in years. There's points for persistence, though.)
22. What was your favourite TV programme?
Ooh! Now THIS is my kind of category: I really liked
Heroes, House,
and
Grey's Anatomy
, I think. I watched approximately 40 different shows over the year, so I think it's best I don't think too hard on this, though. Those three shows gave me the most moments that I liked getting from TV, though.
23. Do you hate anyone now that you didn't hate this time last year?
No. :)
24. What was the best book you read?
Oh, fuck. I'm so bad at singling things like this out. I'm just happy I started to READ again this fall - I've been plowing through more books this fall than I have in the past 3-4 years, so I'm thrilled about that (even though most of the books are just quick-reads for the subway commute).
I think the book that made me laugh the most, though, was
The Gun Seller
by Hugh Laurie. Haha. And I really liked getting into Paul Auster (thank you,
anja
!).
25. What was your greatest musical discovery?
Oh Please. Hahaha. I really fell back into Regina Spektor and Fiona Apple, though. Lovely women. The Songs I remember the most:
1)
Band of Horses - The Funeral
2)
Regina Spektor - Fidelity
(on Conan, so good!)
3)
Blue October - Razorblade
4)
Midlake - Roscoe
5)
KT Tunstall - Suddenly I See
(it gave me great energy this summer when I needed some cheer)
(6. The Killers - All These Things that I've Done)
26. What did you want and get?
Payraise (even though it'll only last as long as I manage to be a teamleader, of course, haha), new responsibilities, nice christmas gifts, and many good moments with friends. Oh, and I got to see and snuggle my cat several times this year, hehe.
27. What did you want and not get?
The courage to just go for it, in one particular instance. (I just realized I should probably point out that this is NOT related to question 21! haha!)
28. What was your favourite film of this year?
Oh, I don't know. My memory is wonky. I remember being very moved by
United 93
. And
Borat
gave me several much-needed moments of not being able to breathe from laughing too hard. I liked that.
Eh, as always, I enjoy rediscovering older movies by buying excessive amounts of dvds, so I have trouble keeping track of what new things I've seen, but I like that I've been to the movies quite a lot this year, and plan to increase moviegoing even more next year. (Yesterday, thanks to recent dvd-purchases, I rediscovered
The Princess and the Warrior
, btw. I forgot how much I like that movie. It's not for everybody, but it really resonates with me.)
29. What did you do on your birthday, and how old were you?
Haha! I turned 29, just like the number of this question! I can't recall what I did? Wait, let me think. OH, D'OH! I checked my lj entry, and found out that's when I saw
United 93
with a friend, haha. My brain, seriously.
30. What one thing would have made your year immeasurably more satisfying?
I was tempted to say "love" but realized that's not true (particularly not since I very purposely stayed clear of it all, especially last spring). You know what? I can't think of anything. I had a good year, albeit with a couple of crappy months here at the end.
And I would have been happier living with my cat than only getting to visit him every few months, but whatever. :)
31. How would you describe your personal fashion concept in 2006?
HAHAHAH!! There's supposed to be a concept behind it all?? Okay. My concept was: buy anything that fits and that I like and wear frequently, which I did, and I tried to not wear all black every day, which I actually managed to stay clear of at least half of the time, even though I doubt anybody noticed.
32. What kept you sane?
Myself, and my ability to get through all sorts of crap simply by hanging on to the thought that "all will be ok, buckle up, ride through it." - seeing a light ahead, even in every crap work stress situation, has helped me a lot to stay more even-keeled.
33. Which celebrity/public figure did you fancy the most?
I didn't really fancy any celebrities. Oh wait, REGINA SPEKTOR, if she counts. Such a lovely, pretty lady. :)
34. What political issue stirred you the most?
Nothing, really. I remain evenly disinterested in most political issues, really.
35. Who did you miss?
Seeing several friends that live abroad. I really wanted to see
moonriddengirl
,
anja
and gene, but couldn't make it to north carolina, nor oslo, this year. Oh well. Hopefully next year?
36. Who was the best new person you met?
I met many swell new people, but mainly through work, so I don't want to count them, even though many of them have been lovely. It was really cool getting to see Nicole again, since it's what, almost a decade? since I last saw her. That was very cool.
37. Tell us a valuable life lesson you learned in 2006:
Don't Bring Work Home, you stupid bitch. :)
38. Quote a song lyric that sums up your year:
Oh please. I can't. I don't remember song lyrics much. I like this, from Regina:
"I never loved nobody fully, Always one foot on the ground
And by protecting my heart truly, I got lost in the sounds
I hear in my mind, All these voices
I hear in my mind all these words
I hear in my mind all this music
And it breaks my heart"
OK! That was techcnically the end of the meme. I want to close by adding five concert photo's I really am thrilled I took this year:
dave gahan
axl rose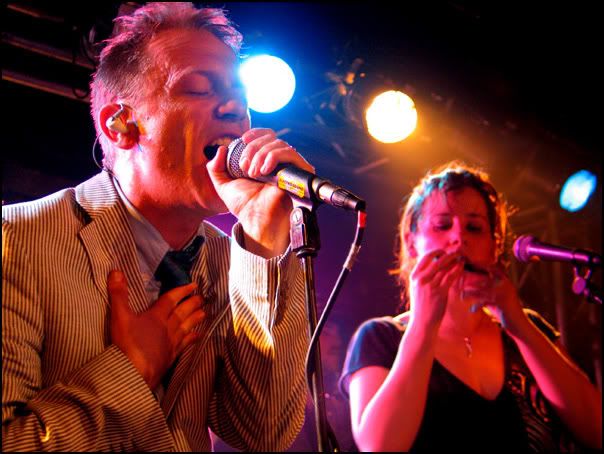 stars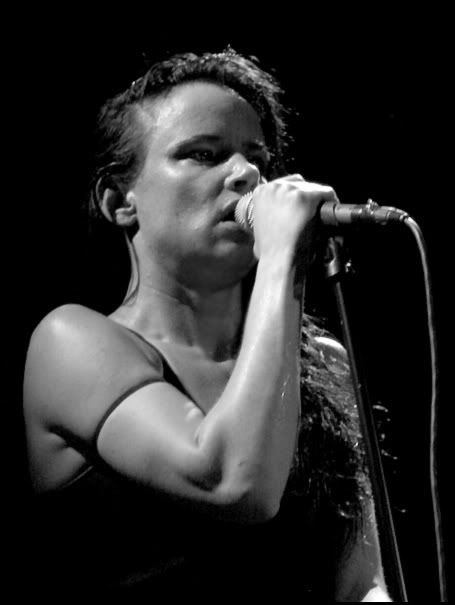 juliette lewis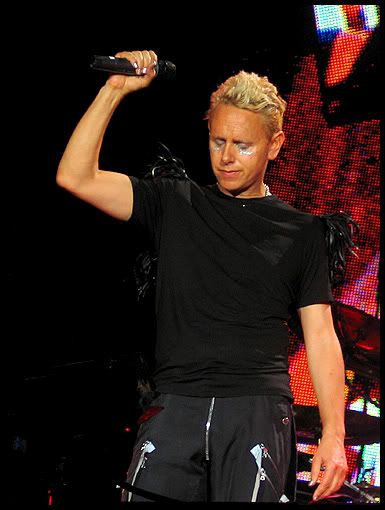 martin gore