mom and my aunt stayed up until 3 a.m. doing stuff around my apartment. in the morning, i went to work as usual. a few hours later, my cousin text messaged me:
"pandora's box was opened when you let them into your apartment. mom is afraid you'll kick them out when you come home and see what they've done to your place."
ooookay.
after too much crap work (so much for trying to quit early, heh) i joined my family in gamla stan and we walked into the downtown area to go through some shops. my aunt was really itching to spend money, and kept forcing me to accept gifts. i know, tough job, haha. i ended up with a really, really pretty necklace (on sale), and a small carpet for my balcony, among other knickknacks. i even bought a new shirt even though i don't need it. meh. i got caught up.
in the evening, we went to tgi friday (yes, a few exist in sweden) and met up with my cousin annelie, her husband and two of her kids. my aunt kept splurging on me/us, and treated me to a super-expensive and huuuuuge frozen strawberry daquiri and a cosmopolitan. mmm, summer! we then spent several hoooours dining.
aunt, mom and cousin annelie all got the same chicken alfredo dish, and none of them could even remotely finish. it made no sense to throw it all away, so i asked for a doggy bag (i have no shame, i'm broke!).
waitress: "...i don't think we do that here?"
me: "are you serious? uh, okay...? could i just get some, i don't know, foil or something and i can do it myself?"
waitress: "hold on, i'll go check."
while she was gone, my entire family was flabbergasted. apparently, they've never thought to bring home leftovers from a restaurant, ever. okay. huh. i never thought about that before, but it's totally true. swedes never try and bring home leftovers, ever. it never even occurs to them to try.
whatever. loads of good food at too high a price being thrown away? puh, i don't think so. i want. :D
so then the waitress came back.
waitress: "it seems we do indeed do doggy bags! let me go put this in a takeaway carton!"
hahaha. score. yey, yummie lunch for monday!
when we finally got home around midnight, i wasn't sure what to expect but.. they did a wonderful job. my room is SO tidy! the whole apartment is super-nice! yeyyyy! to go with the flow, i finally put up the strings of lights i bought at ikea a few months ago. they look SOOOO cute!
it's two sets of lights - one with just green leaves, and one with flowers and more green leaves. yey, cheesy artificial summer flowers! i just need some more real plants and some furniture, and another carpet, and my balcony is done. can't wait. :D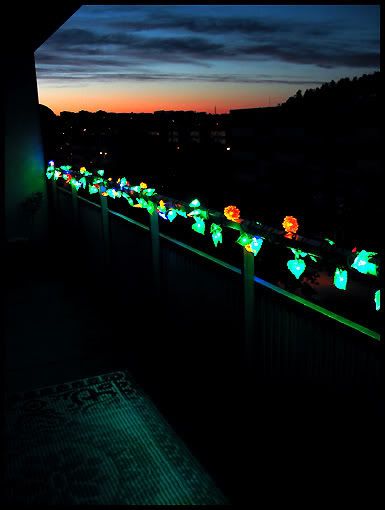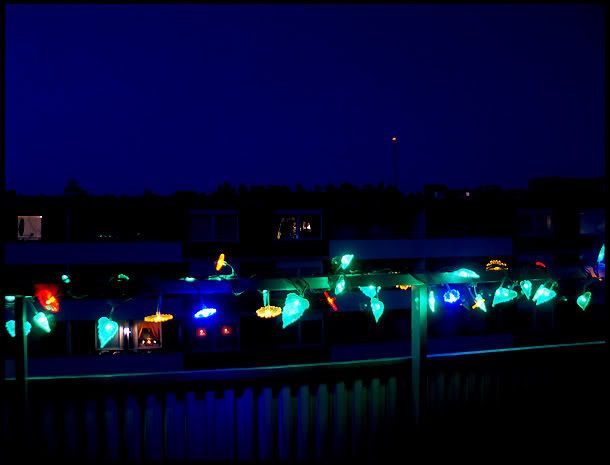 alright. tomorrow the family comes by and i will feed them my spaghetti with meatsauce. then we go attend a wedding! cool stuff. must charge camera. cin cin!