when i accidentaly wiped all the settings on my nokia phone, i lost my ability to e-mail nokia-snaps anywhere. i need to get that thingy working again. still, i wanted to share some snaps of things that have brought me a lot of smiles over the past week. spring rocks.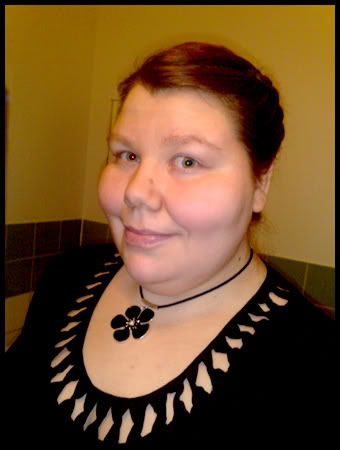 the new shirt i bought last night on a 10-minute impromptu shopping spree.it's very comfortable! i didn't get any comments on it at work, but i did get 10-12 comments complimenting my braids. this amused me, because i only ever do the french braids when my hair hasn't been washed in too long. it takes me 10 minutes to do, and it always brings comments. i guess i should do them more often.. heh.
i played "kasta gris" with marp on sunday. it's a very silly game. it translates to "throwing pigs" and is just what is says - you throw little plastic/rubber pigs like they were dice, and then get different points depending on what position the pig as landed in. is this an international game? if not, it should be, hehe. oh, alright, this picture is arranged rather than an actual result of a throw. tiny piggies = way fun!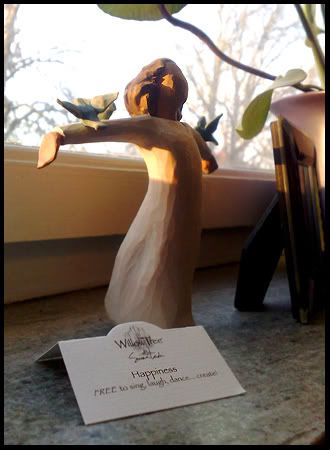 i very much enjoy this little statue thingy decoration i bought last week. it's a copy of a wood carved sculpture by
susan lordi - willow tree
, and it's called "Happiness." i just really love the posture of the little girl, it really does signal happiness to me. click on the link to see a more detailed picture.
i also love the new necklace i bought on our way back from malmö last monday!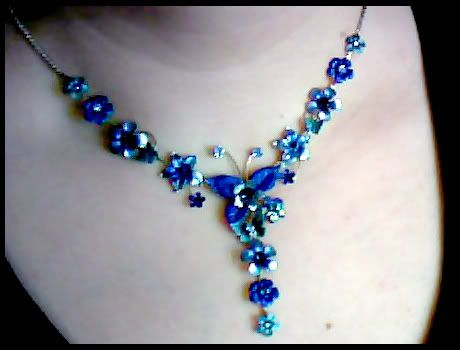 loooook! little blue floooowers. aaaah, spring. :D it's a bit too sparkly for work, but i figure it's okay to wear on fridays, at least..
...and last nights' happy-happy: our homemade pizza with THREE sliced bananas on top! mmmm, homemade piiiiizzaa... hehe.
things that do not bring me happiness: trying to force my brother into getting a job. i'll write more about that later..