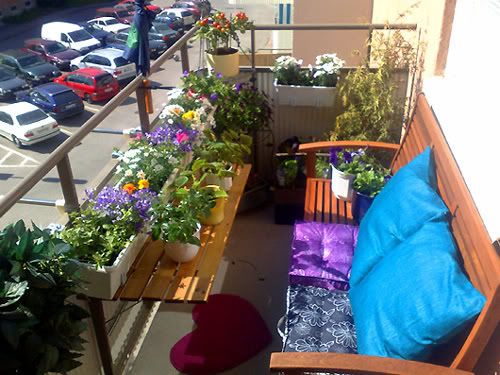 like i said. i love our balcony. i don't even care that it's overly cutesy. i have no shaaaame. (we'll see how i feel once i've wrapped the garlands with plastic sunflowers around the balcony rail, and put up the bright blue and white striped sunparasol, though... that might be a tad over the top.. hehe.)
:)
and this is what 13 plants crammed into two balcony boxes look like... hehe.
aren't i clever to load up the balcony with 40 plants (yes, i've counted) a few days before going on a 4-night trip to london? especially since i'm then making another 4-night weekend trip to london next week again? hehehe. S-M-R-T!
eh, i don't care. i have a pretty baaalcony. now if only i could spend the day out there. i'm staying home from work - have a cold and fever and need to try and nip it in the bud before the trip. have way too much work to do to be home more than one day. meh.
maybe i'll keep updating my
flickr account
. i haven't used it since 2006, heh. but then i realized i've amassed almost 800 photo's on my mobile phone since late november. i need a photo-outlet. ta-da! hmm, let's see if i can get the e-mail function to work... hehehe.